Today AutoCAD Tip: How to Turn on, off, Move Ribbon in AutoCAD?
AutoCAD 2010 is the first version that Autodesk apply Ribbon ray, whose interface is intuitive and flexible during the using time as well as keeps up with the current trend. Ribbon in AutoCAD has proved its remarkable strength compare with AutoCAD Classic interface on version 2007 we often use.
This sudden change makes some of you be surprised when upgrading to higher AutoCAD version such as 2010, 2011, 2012, 2013, 2014 and 2015. In fact, during the last time, in my Fanpage and Inbox, I have received a lot of questions related to using ribbon ray for all AutoCAD versions from 2010 to 2016.
In this tutorial, I will guide you how to use Ribbon ray in AutoCAD the most flexibly in order to help you save your working time as well as get your best performance.
How to turn on Ribbon on AutoCAD?
To turn the Ribbon on, at the Command line, input Ribbon then Enter.
How to turn off the Ribbon on AutoCAD?
To turn the Ribbon off, at the Command line, input Ribbonclose then Enter.
How to move Ribbon on AutoCAD?
To move the Ribbon ray, firstly you drag mouse to any location in Tab bar, then right click to display a menu => left click and select undock.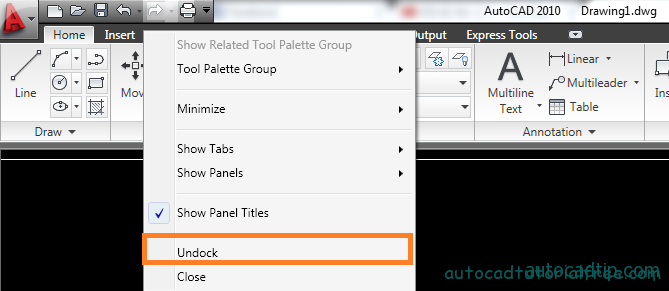 After selecting Undock, Ribbon ray will automatically decrease its size and separate from the Dock above. To move, left click and hold it on left edge (or right) of Ribbon ray window; then drag it to the location you want on AutoCAD working screen. Normally, we will set it on the top as default but if you like, you still set that Ribbon ray on the left or the right of working screen.
If you set it on the left or the right of working screen, you can choose Auto_Hide mode to automatically hide a part of Ribbon ray when you are not using. In that case, hiding or showing Tools bar or Tabs is not different from when we set Ribbon ray on the top of working screen.
Some people while working with Ribbon ray on new versions of AutoCAD may feel uncomfortable and want to change it back to AutoCAD 2007 interface. Understand this issue, on some new versions, AutoCAD still allows user to change Ribbon interface back to Classic and vice versa. Changing AutoCAD interface to classic is very simple but not for everyone. To do this, you should search about how to change Ribbon ray to AutoCAD Classic. This method applies to all AutoCAD versions of Autodesk.