The Sheet Set Manager is a tool for managing drawings. This tool allows linking to drawings anywhere on the drive. Automatically update the name of the designer, manager, check (only need to edit the text only once). Automatically catalog the drawing and update the drawing name into the drawing list. It allows the writer to better manage the records.
The benefits of using Sheet Set Manager
Generally manage drawings, help to access easy a drawing for engineers as well as leaders.
Easily access to the drawing to work without wasting time searching and accessing from the window.
Easily publish datas with formats as your desired such as:
+ Export to PDF format for printing or sending.
+ Export to DWF format for submission to stakeholders or for review.
+ Export directly to the current printer.
+ Bind the drawing automatically.
+ Packaging (etransmittal) products to move to a new project phase or to store products.
Easily manage the drawing name frame.
And export or bind of drawings can be done separately by drawing or can be done of the same of batch according as using of requirements.
Works with Sheet Set Manager
First, You use SHEETSET command to create or open a Sheet Set. Now, the Sheet Set will display a window as the following:

After opening, we will see drawings of each subject listed on the Sheetset: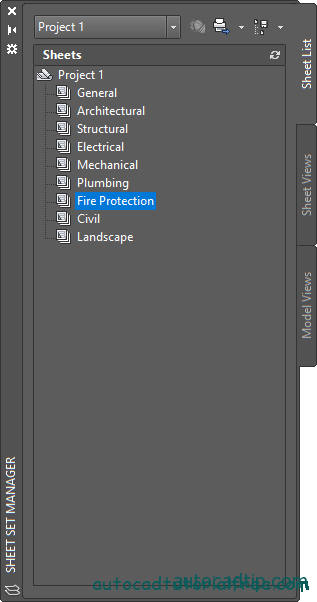 As a department engineer or leader, you can directly open the drawing you want to view easily. It does not take a lot of searching and retrieval from windows.
We see each drawing listed on the sheetset consisting of two fields: sheetset number and sheetset title. These two fields will affect the management of drawings as well as the naming of links to drawings in the name panel that will be discussed in the next section.
The next content in this article, you click on the below link to download to your computer offline. Because the content is so long, I do not want to show up here.
Download AutoCAD Sheet Set Manager Tutorial document. This document's copyright is AutoDesk.
>> Manage Layer in AutoCAD
Thank you for reading my article. If you feel it helpfully, you can click on LIKE, G+ to share it to everyone. Good luck!