Today AutoCAD Tip: How to transfer Ribbon into Classic in AutoCAD?
Ribbon interface is an inevitable trend of office graphic software. Autodesk company has kept up with that trend by integrating Ribbon ray in AutoCAD 2010 version. However, domination in a long time of AutoCAD 2007 has made an ingrained habit for autocad user. When access to new version having a lot of interface changes and integrating Ribbon ray, it may cause inconvenience for user. A part because user is lazy to learn how to use Ribbon ray, and another part because they are so accustomed to classic interface of AutoCAD 2007 so they choose the easy way that transfer Ribbon into classic. Early understanding this requirement, before releasing AutoCAD version from 2010 to 2016, they all allow user to quickly change ribbon interface to classic by available software tool.
Instruction to transfer ribbon into classic in AutoCAD all version.
Step 1: Open AutoCAD software (version is 2010 or upper).
Step 2: On the AutoCAD working screen, drag mouse to the right-bottom corner => Select Workspace Switching Tab.
Step 3: If there is no Workspace Switching, move your mouse to the right-bottom corner => select Workspace Tab.

Or Click on Arrow at Customize Quick Access toolbar and Workspace.

Step 4: At Workspace Switching tab, click on select AutoCAD Classic to transfer Ribbon into Classic which is fastest method.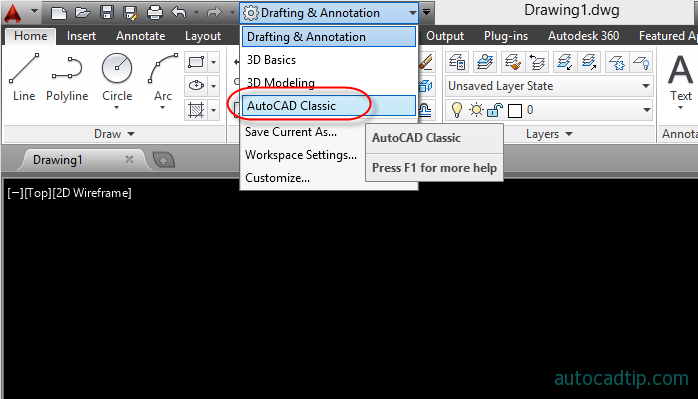 Or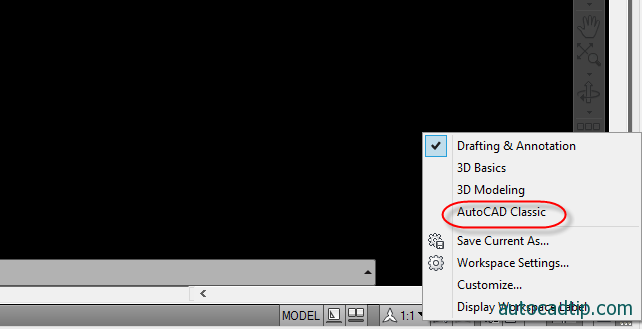 Step 5: You can do similarly if you want to reverse Classic into Ribbon.
Transfer Ribbon into Classic by shortcut command
To save time, you can you shortcut also.
Step 1: At command line, type WSCURRENT > Enter.
Step 2: Type autocad classic > Enter.
AutoCAD's interface will change to classic like version 2007. Now, you can use some functions such as: hide, arrange and move tool bar as you want the same as AutoCAD 2007 version.
Notice:
If you do the same as the instruction above but you still can't transfer ribbon into classic interface, perhaps you miss some files during installing progress. To fix "Invalid" error when using shortcut or unable to see "autocad classic" option on Workspace Switching tab, you should search about how to add or you can download acad.CUIX file and extract this file, follow the instruction included to add "autocad classic" function into Workspace Switching in order to help you to transfer ribbon into classic as the instruction above.