1. How to create a new layer in AutoCAD?
Step 1: Type LA > Enter or Click Home tab > Layers panel > Layer Properties.
AutoCAD will display LAYER PROPERTIES MANAGER (LPM)
Step 2: Alt + N or click the New Layer button
Now a layer name, such as LAYER1, is automatically added to the layer list.
2. How to delete a Layer in AutoCAD?
The following Layers can not delete:
Layer 0 and Defpoints
The current layer
Layers containing objects
Xref – dependent layers
The steps to delete as following:
LA > enter > choose layer > click Delete Layer icon or Alt + D.
3. How to set Layer's attribute in AutoCAD?
Note:
Layer names cannot include the following characters: < > / " : ; ? * | = '
For complex drawings with many layers, you can enter descriptive text in the Description column.
Specify the settings and default properties of the new layer by clicking the icons in each column.
Name: Click the Name cell > press F2 > type new layer's name.
Color: Click the Color cell > Select color dialogue box is displayed > chose color > OK.
Linetype: Click Linetype cell > Load > chose Available Linetypes > OK > chose Loaded Linetypes > OK.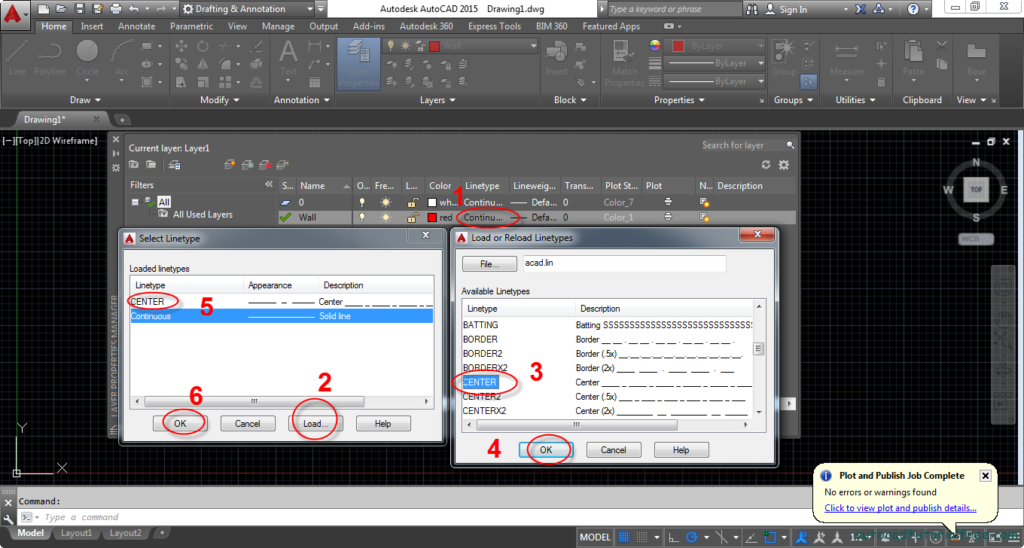 Lineweight: Click on Lineweight cell > choose lineweights > OK.
4. How to set a object's layer in AutoCAD?
Step 1: Choose object
Step 2: Home > Layers > Choose a Layer Or Properties dialogue box > Layer.